Canva
Baby Boomers, you've probably heard a lot about the millennials. And millennials, I'm sure you've heard a thing or two about the Silent Generation. So, where did these generational delineations come from, and what about the stereotypes that accompany them?
The Generation Gap is defined as "differences of outlook or opinion between people of different generations." It's often used to explain perceived differentiation between people of varying ages and feeds some of the generalities made about the behaviors of people in different generations. It could help explain why you may get some skeptical looks when you bring up intergenerational living to your friends or family members!
Take a look at the chart below to see where generations are commonly divided: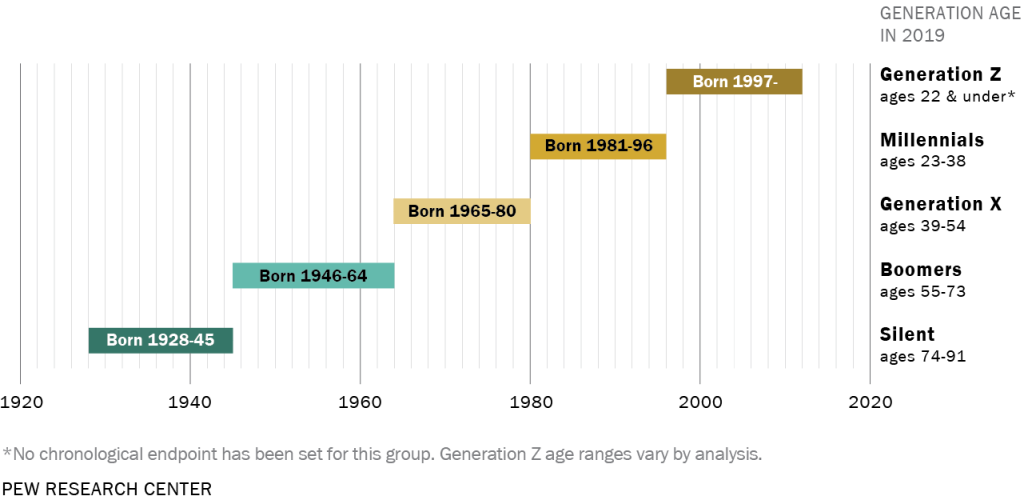 It's easy to make assumptions about people based on when they were born. But, does our age define our opinions, talents, interests, and motivations? A study from the Cambridge University Press on intergenerational differences in the workplace says, not so much. In their words, "there is little solid empirical evidence supporting generationally based differences and almost no theory behind why such differences should even exist." Simply put, you might have more in common with a differently-aged roommate than you think! 
Take technology use–this is a classic example of something that is often seen as a dividing force between generations. Millennials and Gen X-ers have a reputation for being too tech-dependent while Baby Boomers and the Silent Generation are seen as being out of touch with technological advances. However, a recent study from the Pew Research Center showed that that older generations are adopting technology at high rates. Nearly 70% of Baby Boomers have a smartphone! And just as interesting, while the rates of social media use have stayed steady for Millennials in the past several years, they have grown by at least 10% for both Baby Boomers and the Silent Generation.
All this to say, the generation gap might not be so very big after all! If you're thinking about ways to make connections with people of different age groups, intergenerational living could be a good fit for you. It's a fantastic opportunity to get to know someone of different ages, debunk myths, learn a new perspective, and share what you know with another person!
https://www.oddcoupleshousing.com/wp-content/uploads/2020/02/Generations.png
315
560
Emma Swinford
http://www.oddcoupleshousing.com/wp-content/uploads/2021/08/Odd-Couples-Housing-Logo-300x169.png
Emma Swinford
2020-02-13 20:43:31
2020-02-27 21:53:04
Debunking The Generation Gap